Note: This article about "How To Get Your SSS Static Information?" has been update on January 5, 2023
SSS Static Information can easily obtained by logging in to your My.SSS account. It's very easy to do this and don't require you to visit the nearest SSS branch here in NCR.
The only requirement you need to have is your My.SSS account which you can register in few minutes by supplying your SSS Number, your Employer's SSS number and other personal detail.
To give you a brief background, the SSS Static Information are member information recorded by SSS which was submitted by the applicant when he/she was applying for a SSS Number. This includes your SSS Number, CRN (Common Reference Number), your Complete Name Date of Birth and Date of Coverage.
So how do we get our Static Information? Simple! With out any further adieu, let's begin!
How to get your SSS Static Information
Log in using your My.SSS account here. If you don't have one yet, here's a guide on how to register a SSS Online Inquiry account.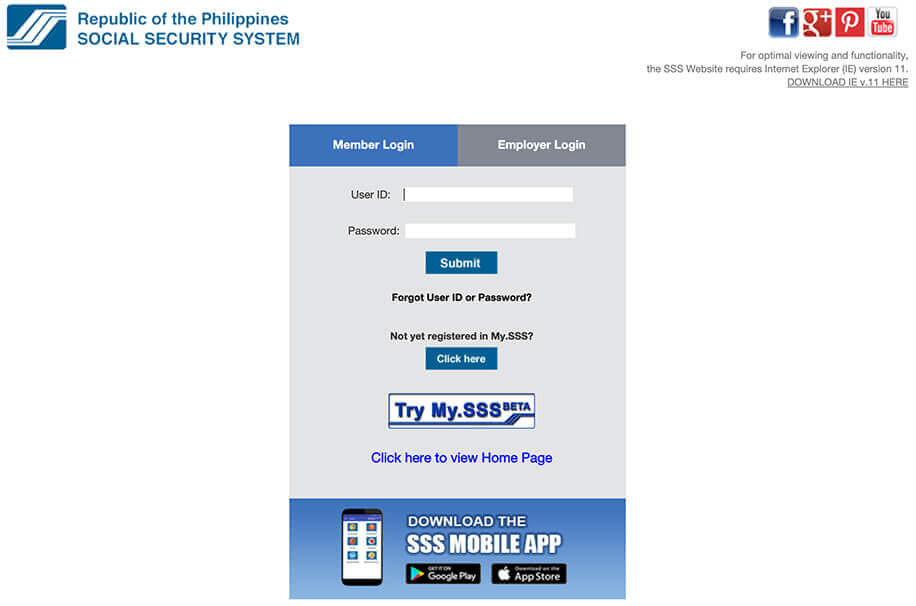 Enter your My.SSS Username and Password then click Submit to continue your SSS Static Information inquiry.
When you arrive at the Main Menu, hover your mouse to "E-Services" and wait for the drop down menu to appear.
Click the "Inquiry" text link to proceed to the next page.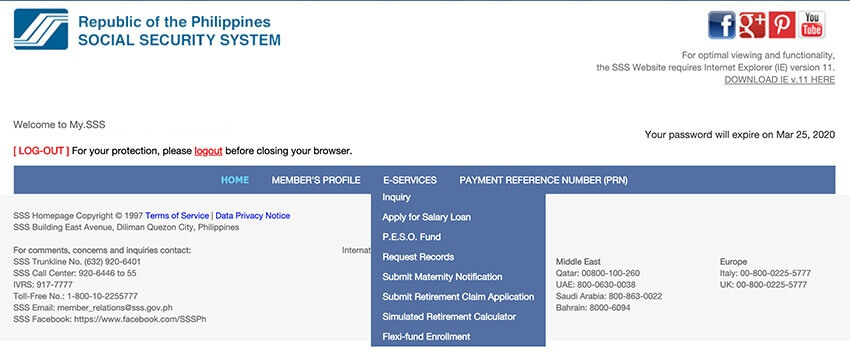 If you want to have a print out of this page, you can just print it using the print function of your browser.
Note: You can also check the total amount of your contribution (SSS Inquiry Of Contribution) using the SSS Online website (www.sss.gov.ph online).
Just go to the top menu of your browser and click File > Print.
Right after the page loads, you'll be able to see your SSS Static Information at the upper portion of your screen.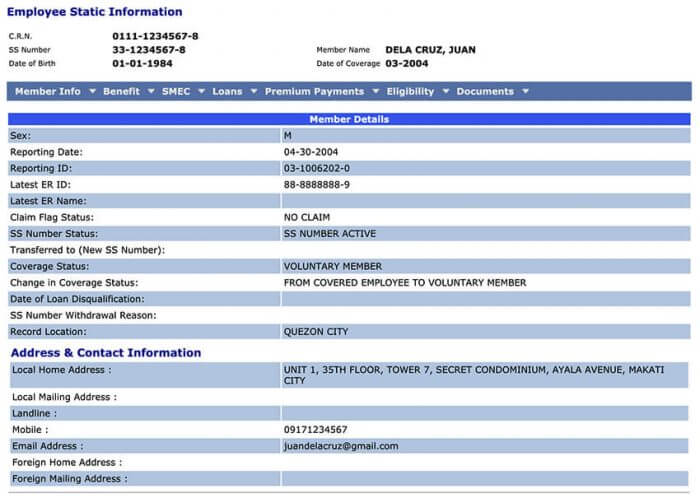 Your SSS Employee Static Information includes the following and these are your:
CRN (Common Reference Number) – the Common Reference Number or CRN is issued to all SSS members who applied for a UM ID (Unified Multi-Purpose ID). This number is link to several government agencies such as SSS, Pag-IBIG, PhilHealth and GSIS. This number can be found in you UM ID or in your Employee Static Information page (as shown above).
SS Number – a unique reference number issued to all SSS Member.
Date of Birth
Your Complete Name
Date of Coverage – this is the month and year your first SSS Contribution was made.
These are the important Static Information recorded in SSS. In the same page, you can also see the "Member Details" such as:
Sex/Gender
Reporting Date – it is the month and year when your first contribution was reported to SSS.
Reporting ID – related to the Reporting Date, it is your Employer's SSS ID who reported you as their employee. Note that this "Reporting ID" is different from the Members' SSS ID (How To Apply SSS ID)
Latest ER ID – latest and most recent Employer SSS ID
Latest ER Name – the name of your latest and most recent Employer. If you are a self employed, voluntary, non working spouse members, this field will be blank.
Claim Flag Status
SS Number Status – active or inactive.
Transferred to New SS Number – informs the member if his or her old SSS Number was transferred to a new one. It will display the new SSS Number.
Coverage Status – this shows your employment status. This can be Employed, Self employed, Voluntary, Non working spouse or an OFW.
Change in Coverage Status – if the member change his or her employment status. As shown in the screenshot above, the member change his status from Employed to Voluntary member.
Date of Loan Disqualification – the date when the member was disqualified for his/her loan application (How To Apply SSS Loan).
SS Number Withdrawal Reason
Record Location
Address & Contact Information – the personal information you have provided when you apply for an SSS ID. The information here can be updated using the new My.SSS Portal (beta). A separate article on how to update your SSS Personal Information will be shared here.
Do you find it difficult to get your SSS Static Information? Tell us what you think in the comment section! Have a great day!