Note: This article about "How To Get Your SSS PRN (Payment Reference Number)" has been update on January 5, 2023
SSS PRN – When a member shifts his or her status from Employed to Voluntary member of SSS or an OFW, its required for you to obtain a SSS PRN / Payment Reference Number when paying your monthly contribution
The purpose of this document is to document the payment for the specified period the member chose to pay.
If you are a voluntary member, you can obtain this document by just going to the nearest SSS branch. But due to the improvement made by the agency, voluntary members can now generate their own SSS PRN without leaving their homes.
Through their website, the SSS PRN can be generated leaving the hassle and queue lines which the old process brings.
As per my experience, generating my SSS PRN Number only took me two to five minutes of my time. That's how convenient having an SSS Online Inquiry account brings to us members. If you don't have one yet, you may register for your own account in their website.
In this article, I will be sharing to you can easily generate your own SSS PRN number so you can avoid going to the Social Security System Branch. Right after you have generated your SSS Payment Reference Number, you can just go to the authorized payment centers to pay for your monthly SSS Contribution.
Note that if you are an employed member of SSS, this tutorial is not applicable for you. Only the Voluntary SSS Members are required to do this.
I won't keep you waiting, Let's start with the tutorial on how to generate your own SSS PRN number!
First step would be to open you internet browser and go to the official website of SSS (http://www.sss.gov).
Using your user name and password, log in to open your SSS Online Inquiry (www.sss.gov.ph online) account.
SSS Online Inquiry Log In
Go to the website of SSS Online Inquiry and log in your User ID and Password.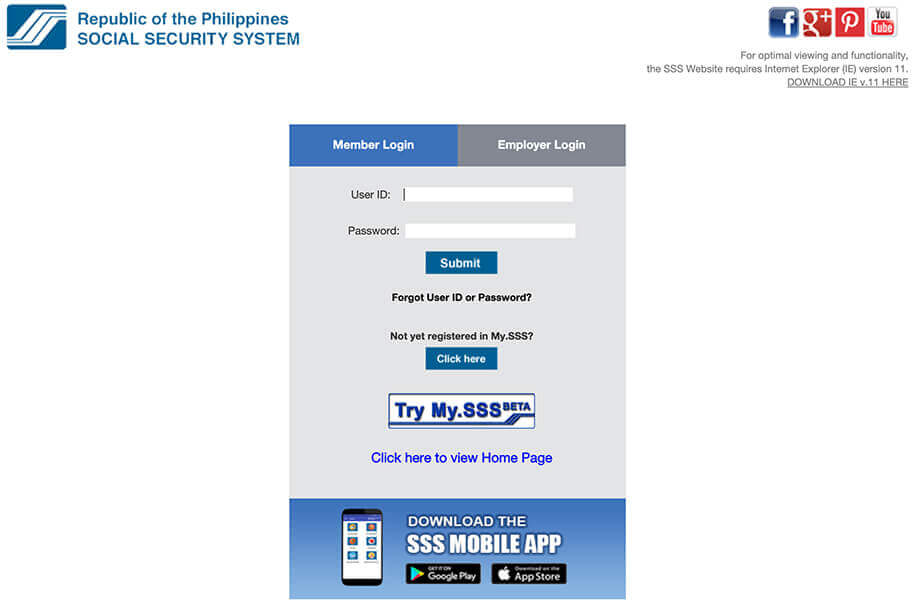 If you don't have an account yet, i highly recommend that you submit an SSS Online Application to activate your own account.
Payment Reference Number (PRN)
Once logged in, click the PAYMENT REFERENCE NUMBER (PRN) to generate your PRN. This will bring you to the next page shown in the next screenshot.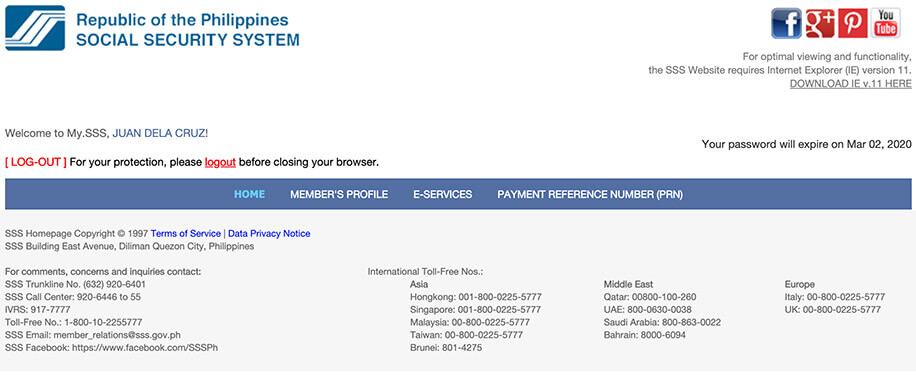 This page is where you get your SSS PRN Number.
Generate SSS PRN
In the screenshot below, there is an existing SSS PRN number which is due for payment on April 30, 2020. You can ignore it because I already did generate my own SSS PRN for future use.
For the purpose of the discussion, I will assume that you're doing this for the first time. To start the process of how to get your own SSS PRN, click the "Generate PRN" button.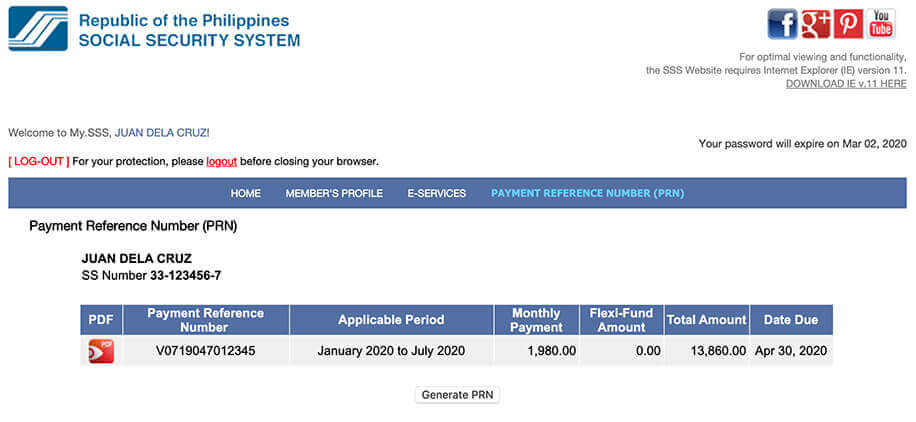 SSS PRN Details
The next page (shown below) will be the generation of your payment reference number. It will ask you to select or input the following:
Membership Type
Applicable Period (Month Year to Month Year)
Contribution Amount
and Total Amount (auto generated).
Let's go into detail with the following information that I have mentioned above.
Membership Type – you can select from the list if you are a Voluntary Member or OFW.
Applicable Period – select from the list the month and year of the contribution your are planning to pay.
Contribution – this is the list of the SSS Contribution you are willing to pay.
Total Amount – this is auto generated based on the number of months you have entered in Applicable Period times the Contribution you have selected.
Example:
Applicable Period: January 2020 to February 2020
Contribution: P2,400
Total Amount: P4,800 (2 x 2400)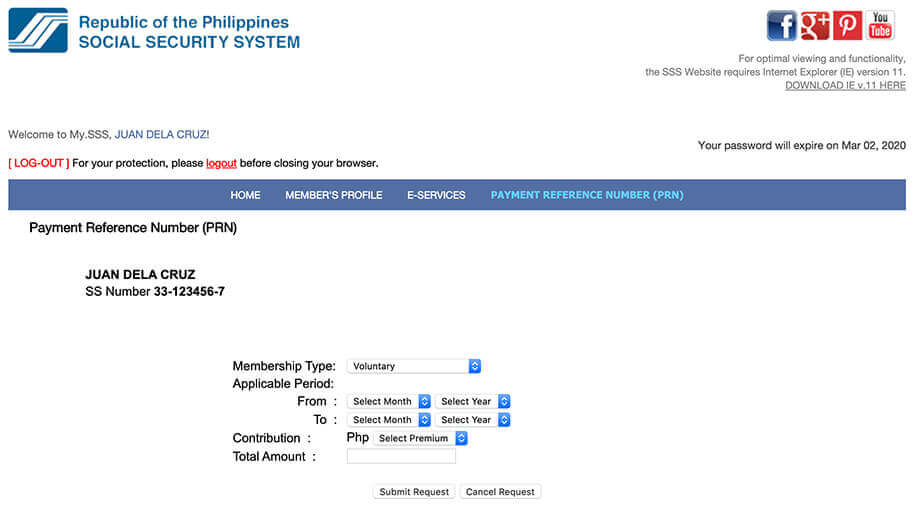 After entering the necessary details for your SSS Payment Reference Number, Click the "Submit Request" button.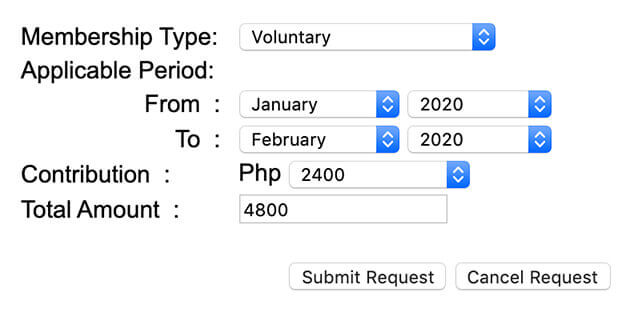 A small pop up window will appear confirming the details you entered in previous page. Click "OK" to proceed.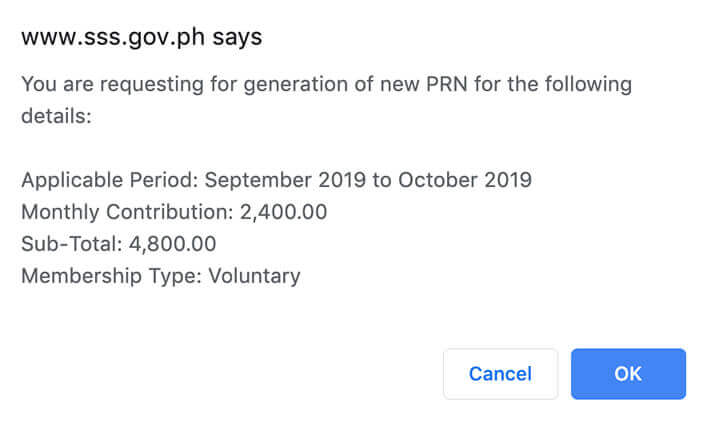 SSS Online Inquiry website will generate SSS PRN for your reference. As shown in the screenshot below, you will be provided with the following:
Payment Reference Number (PRN)
Membership Type
Applicable Period
Monthly Contribution
Total Amount
Due Date
Statement of Account (SoA)
You have an option to print the Statement of Account (SOA) for your reference. I highly recommend that you do this so it would be much easier in SSS or Bayad Centers to process your payment for your SSS Monthly Contribution.

Here's an example of the Statement of Account showing the details mentioned above as well as the SSS PRN (Payment Reference Number) generated.
As I have said, It is important to print this and show it in the cashier of SSS or Bayad Center as this will be used for processing your payment.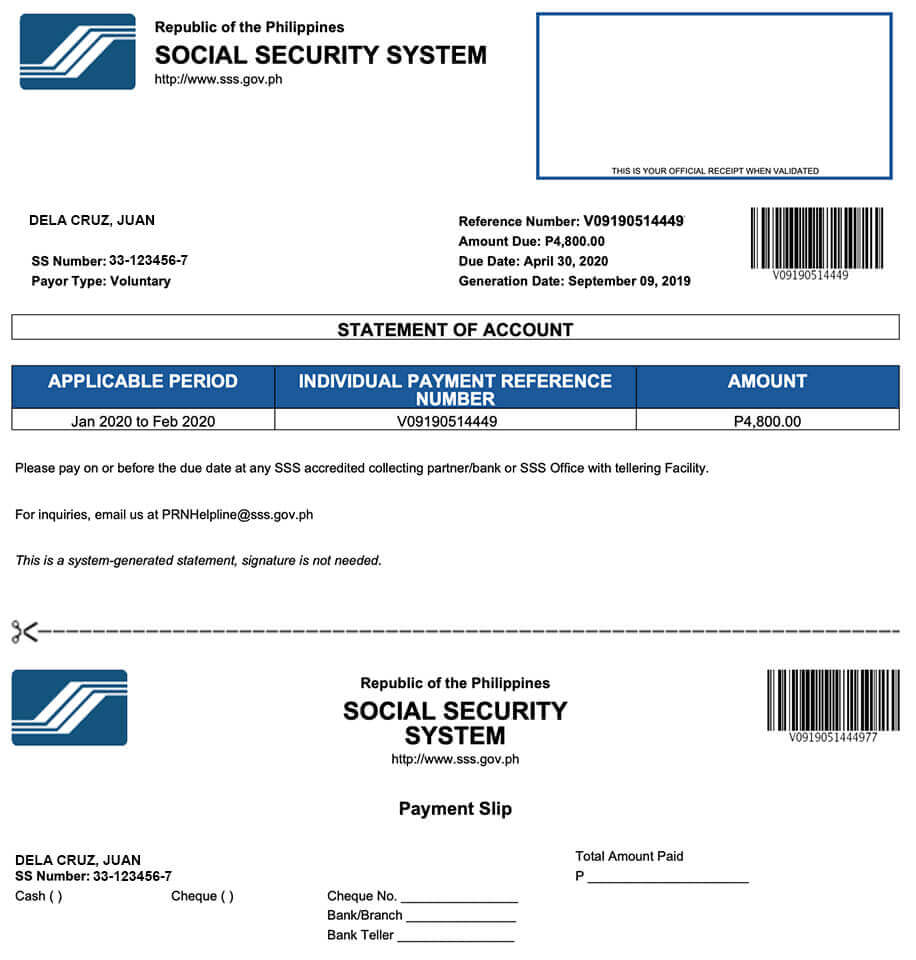 After printing the Statement of Account showing your SSS PRN, you can now go to the nearest SSS Branch and pay for the amount due.
You can also pay your monthly contribution through LBC or Bayad Centers nationwide. Watch out for our future articles regarding that.
I would also like to note that it is important to pay your monthly contribution on or before the due date indicated in your Statement of Account.
Failure to do so will forfeit your SSS PRN number as well as the statement of account that you have generated.