Note: This article about "How To Get Your SSS Static Information?" has been update on January 5, 2023
SSS Online Inquiry – The Social Security System (SSS) is an independent agency authorised by the Philippine Government that facilitates the Social Security issued to all Filipinos.
A social insurance program consisting of Sickness, Maternity, Retirement, Disability, Death & Funeral, and SSS Loans.
To qualify for these benefits, most Filipino workers pay Social Security contribution through Compensation Income or Income derived from Self Employment. The future benefits are based on the employees' contributions.
Being a member of SSS, awareness should be practiced to make sure that our precious contribution is directly credited to our individual accounts. There are lots of cases wherein an Employer skips, intentionally or otherwise, the employee's contribution to SSS.
To prevent this from happening, everyone is advised to verify their contributions.
To do this, SSS opened it s service to the masses by providing us My.SSS. It is a self service portal provided to every SSS member to exclusively access their contribution and membership records.
A good friend of mine asked me how to use this, I said, "…just google it". He replied to me, "I can't find a decent tutorial for this, kid".
To cut the story short, here I am, making a more "decent and comprehensive" tutorial on how to verify/check your total actual contribution in SSS and other matters that, I think, is useful inside the SSS Website.
If you know how to use Facebook, SSS Online www.sss.gov.ph online is just like commenting on a senseless post.
First Things First!
Before we start, you need few things first. I need you to have the following:
Your SSS Number – you can get it in your machine-validated SSS E1 Form (usually in pink colored paper with few machine-validated numbers and inked stamped as well as your thumb marks.) Without this, forget about this tutorial. I'm sorry to say that you can't continue your SSS online registration.
A Valid Email Address – SSS.Gov.PH will send an email for the confirmation to activate your account. The same email will also be used when you use the Forgot Password feature.
SSS Online Inquiry Website
The SSS Online Inquiry website also known as My.SSS is provided by SSS to all members where everyone can access the Member's Records including the SSS Contributions, SSS Salary Loan, Loan balance and the SSS Static Information.
As of August 2018, there are two (2) existing website. Members can use both website whichever they prefer. Though as of this writing, we still prefer/recommend to use the old portal because it can perform more functionalities compared to the newer one.
Who needs to register at My.SSS?
SSS encourages everyone to register an account with My.SSS but who are they?
Members, Business and Household employers are allowed to have an account and register using their SSS Numbers as long as they meet the requirement.
SSS Members
All employees in private sectors, self employed, voluntary, non working spouse members as well as OFW are encouraged to register an ccount as long as they meet the minimum criteria listed below:
At least one (1) month contribution
Valid and Permanent SSS Number
SSS Date of Coverage – it is the month and year when the first contribution is paid as self employed, non working spouse or as an OFW member. For employed member, this is the month and year the Employer has reported the member as employed by the business.
Business Employers
All companies in private sectors can register their Employer Account in SSS Online Inquiry website. Non profit organizations are also allowed to have their own account.
Household Employers
Household Employers can also register their My.SSS online account. These are the people who employs household help or kasambahay as they as they meet the minimum requirement;
SSS Number
reported coverage as an employed, self employed, voluntary, non working spouse or an OFW Member
at least one (1) month posted contribution. This means the contribution is acknowledged and entered in the system/database of SSS.
Why do you need to register at My.SSS?
The SSS Online Inquiry website was develop for the convenience to all related party especially the members.
An online account brings convenience to the members who wants to perform simple transactions such as SSS Inquiry Of Contribution, SSS Salary Loan application (Read: How To Apply SSS Loan) or update on Member's data or information.
Having an SSS Online Account enables users to perform these transactions at the comforts of their home using their mobile devices or computers as long as there is an internet connect.
Members no longer to go to the nearest SSS Branch to do these task while waiting in a long queue line just to be accommodated with their inquiries.
How to register an account with SSS Online Inquiry Website
We're done with the introduction and I'm sure you have everything that we need but before we start, I just need to inform you that there are two existing website for SSS Online Application. We will discuss each process and go through each site and show you how to do it. So let's go!
For the first tutorial, we will discuss the old website. Later on, we'll proceed with the new website.
I need you to type in your browser SSS.Gov.PH.
When you arrive at the website, you'll see a log in fields where you need to input your User ID and Password. Unfortunately, you don't have one yet.
To register an account in SSS Online Inquiry, find the text that says "Not yet registered in My.SSS?" then below that, click the "Click Here" button.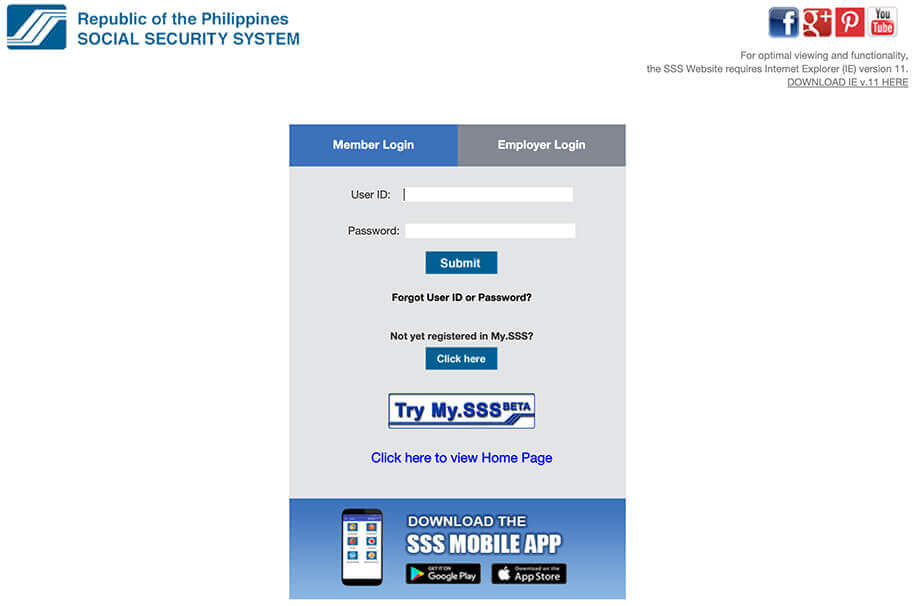 Online Member User ID Registration
The previous button you have clicked will direct you to this page. You will be presented five (5) options to choose from.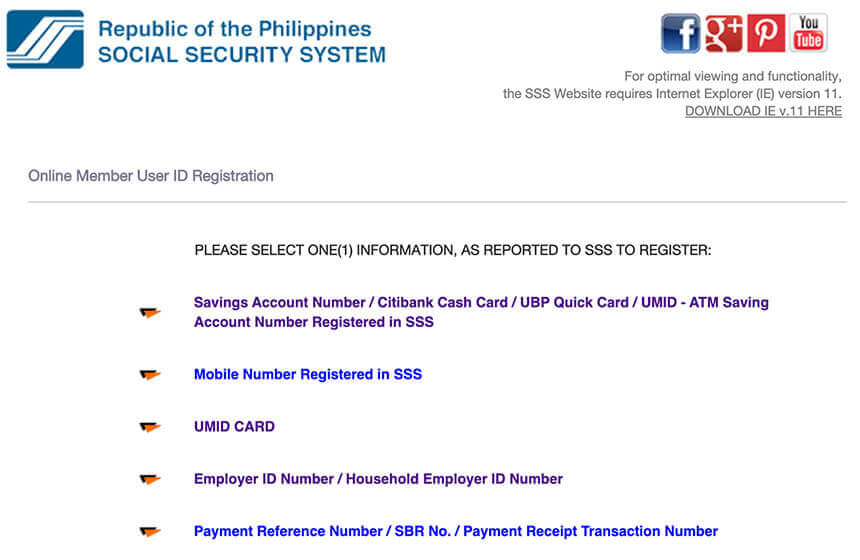 From the selection, you can choose anything that you have:
Savings Account number / Citibank Cash Card / UBP Quick Card / UMID – ATM Savings Account Number Registered in Social Security System
Mobile Number Registered in SSS
UMID Card
Employer ID Number / Household Employer ID Number
Payment Reference Number / SBR No. / Payment Receipt Transaction Number
For the purpose of this tutorial, I am selecting UMID Card. If you don't have, I suggest you choose any of the four (4) choices.
Online Account Application Form
After selecting the UMID Card from the previous screen, you will be asked to fill up the My.SSS Application form.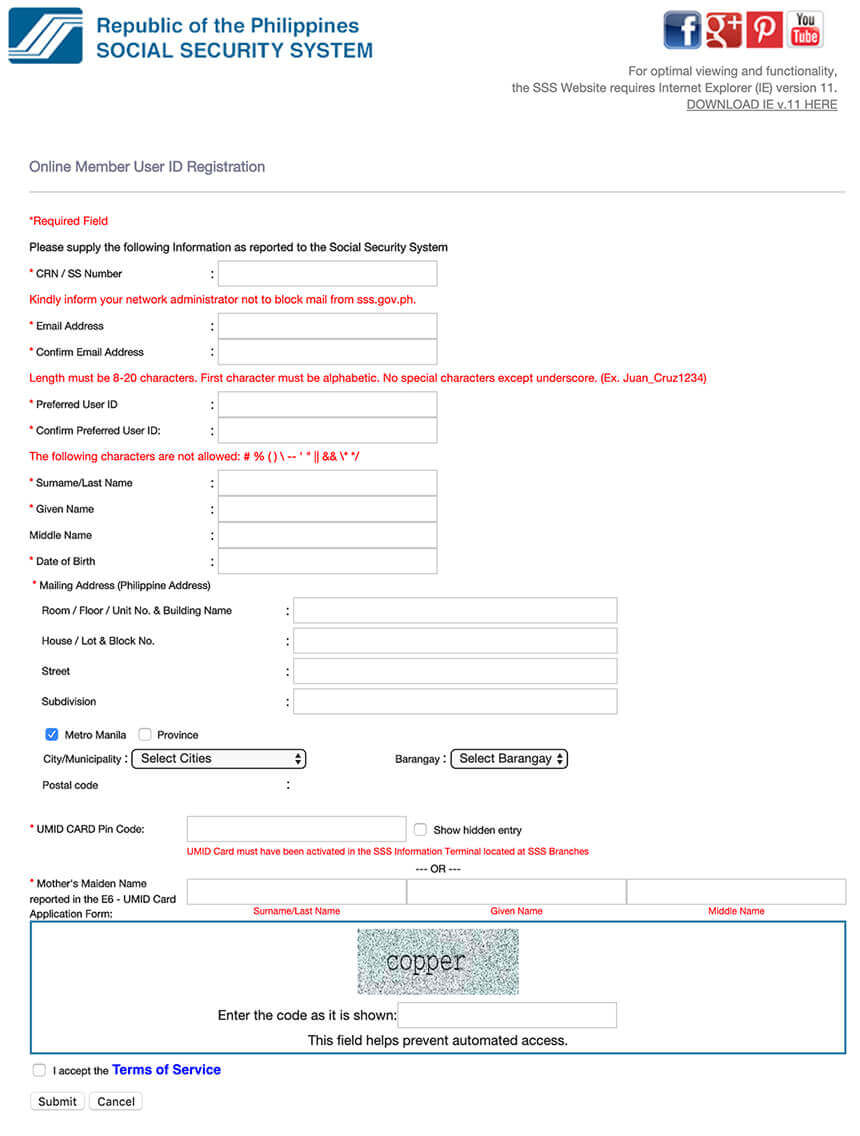 Correctly enter all the personal information needed. Enter the captcha or code shown in the image located at the bottom of the form. Lastly, tick the "I accept the Terms of Service" check box and click the submit button to finalize your application.
SSS Online Email Confirmation
After submitting the online application form. Open your email account and look for the email from noreply@sss.gov.ph. It usually have a subject of "SSS Website Email Validation".
The email looks like the screenshot below.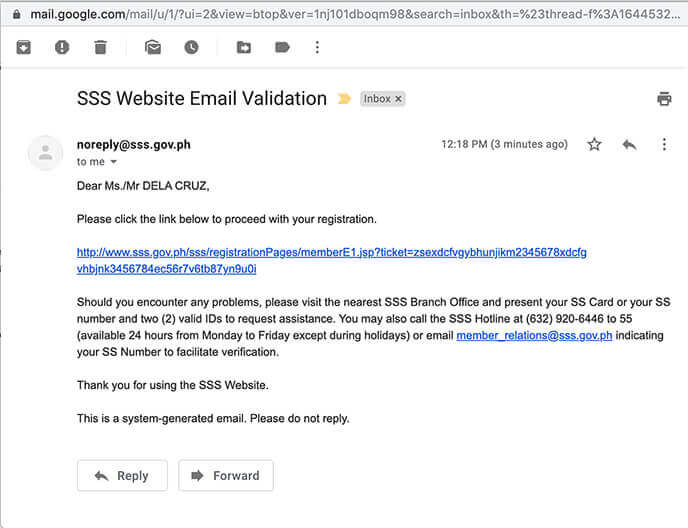 In the email, a confirmation link will be provided. Click this link to validate or confirm your My.SSS registration.
The link will redirect you to the same website (SSS.gov.ph) confirming that your registration with SSS Website is successful and activated.
You can now log in to your account using your nominated user id and password. Congratulations!
Register an account in new My.SSS Portal
Go to https://portal.sss.gov.ph/member/ to access the new SSS Portal.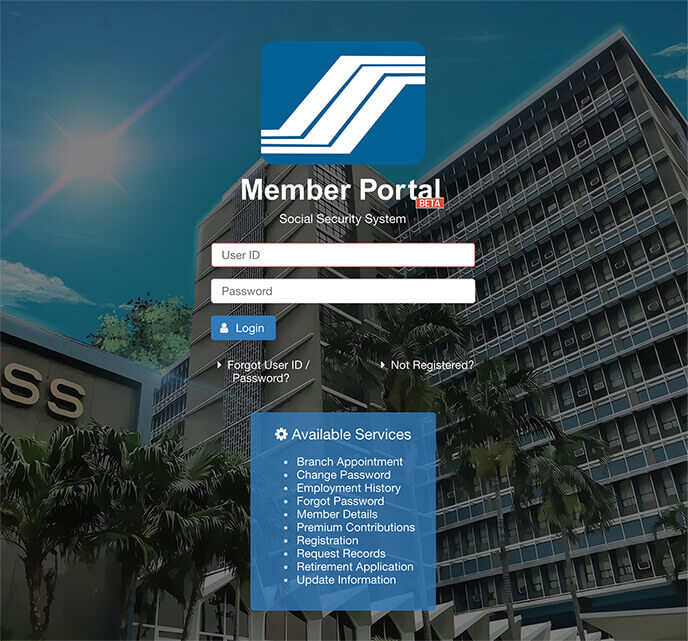 Below the log in credentials fields, click the text that says "Not Registered?".
SSS Portal Member Registration
It will redirect you to the application form where you need to fill up with your personal information.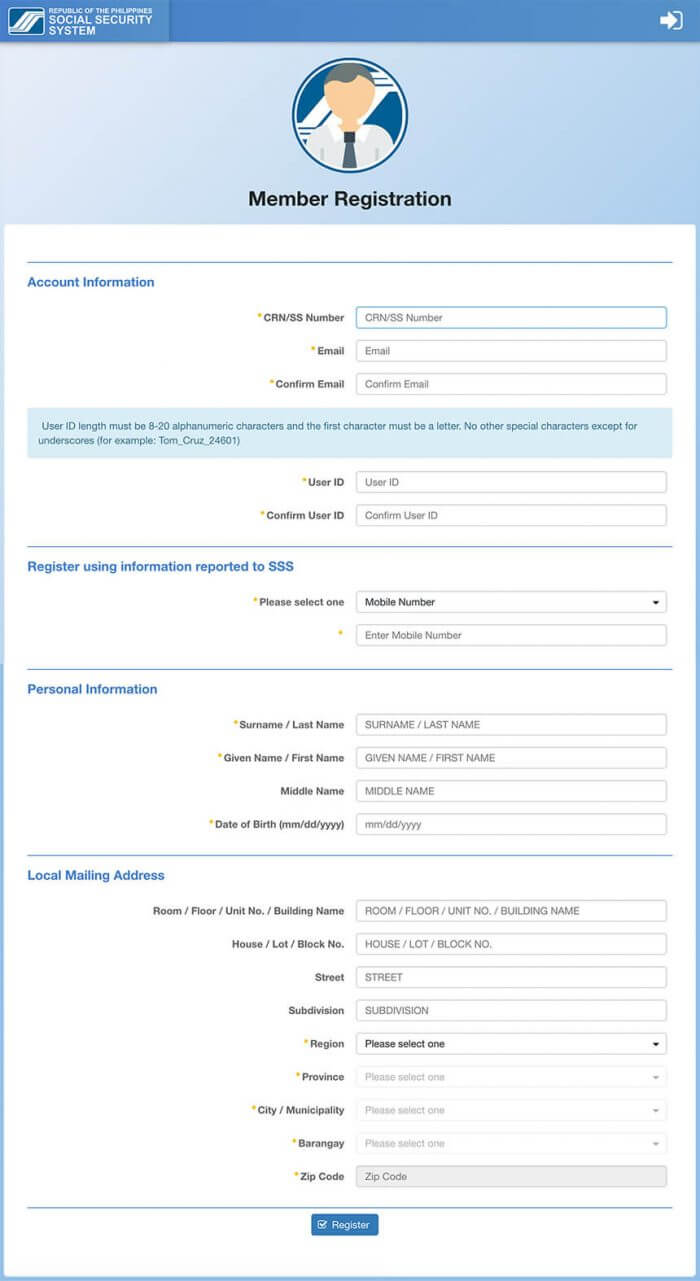 The following information must be provided correctly.
CRN/SSS Number
Also know as the Common Reference Number found on your UMID card. If you don't have your UMID ID yet, you may enter your 10 digit SSS Number found in your SSS E-1 form (Personal Record form).
Email Address
Input a working, valid and active email address. As mentioned earlier, SSS website will send you a confirmation link to activate your account. This email is also will be used when you use the Forgot Password feature of the website.
User ID
Select a unique User ID that you can easily remember. The general rule is to have at least 8 to 15 alphanumeric characters.
Information reported to SSS
The following are the choices from the dropdown menu where you can select one to be used in your registration. Feel free to choose any information that is available.
Savings Account Number – the bank account number from your bank account you use to receive your SSS pension for retired members. For employed members, it is also the bank account issued to you to receive your Salary Loan. This may be your Citibank cash card, UnionBank SSS Quick Card or UMID-ATM.
Mobile Number – obviously, this is your mobile number you have written in your SSS E-1 form when you signed up for an SSS Number.
UMID Card – all UMID Card comes with PIN Code which you can get when you activated your card in any SSS Information Terminal located at any SSS Branch.
Employer ID – can be obtained from your previous or current employer. You can easily ask your HR for their SSS Employer's Number . Just tell them that you're going to use it for you SSS Online Inquiry account registration.
Household Employer ID – same as the previous item above but only applies to household help or kasambahay.
Payment Reference Number – can be obtained and issued by SSS Branch where the voluntary, self employed, non working spouse or OFW member pays his or her monthly contribution.
SBR/Payment Receipt Number – also related to the voluntary, self employed, non working spouse or OFW members. This number can be found after the payment of monthly contribution.
Click on the drop-down menu next to "Please select one" to reveal the different types of information you've reported to the SSS. Click on the option (one that you already have on hand) and then enter the required information on the next field.
SBR/Payment Receipt Number – Provide any receipt number found on the special bank receipt or the Contributions Payment Return (Form RS-5) paid within the past six months.
Complete name & Date of Birth Date
Do I need to explain this part?
Local Mailing Address
Enter you current address correctly and accurately. If any fields is not applicable to you, you may leave it as blank and move forward. As for the district, you can select from four choices.
First District – Manila
Second District – Mandaluyong, Marikina, Pasig, Quezon City, San Juan
Third District – Caloocan, Malabon, Navotas, Valenzuela
Fourth District – Las Piñas, Makati, Muntinlupa, Parañaque, Pasay, Taguig
This is the last part of your registration of your account in SSS Website, review it and make sure that all the information you have written is correct and accurate.
Click the "Register" button to submit your application.
Complete Account Registration
You will be directed to "Complete Account Registration Page" where it will confirm that your application is already submitted.
All you need to do now is to confirm your account registration through their activation email sent.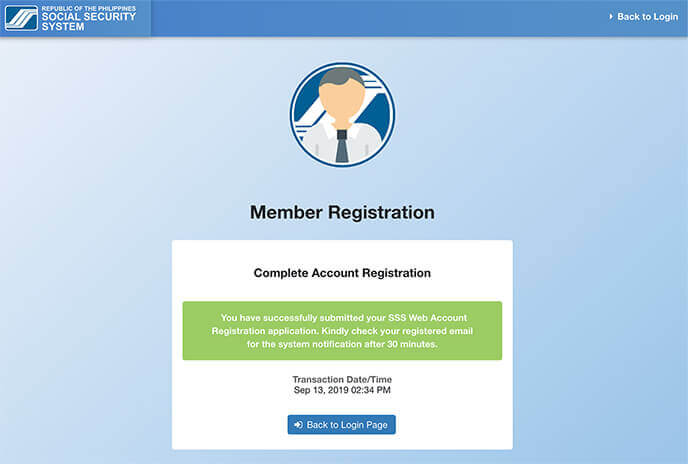 SSS Web Registration Email
An email will be sent by SSS website so make sure that you have access to your email address you have used from the previous registration.
Log in to you email address and look for the same email shown in the image down below.
The email contains the activation link, all you have to do is click it and it will bring you again to SSS Website.
If your account registration is successful, the website will say that you have successfully registered you account with SSS.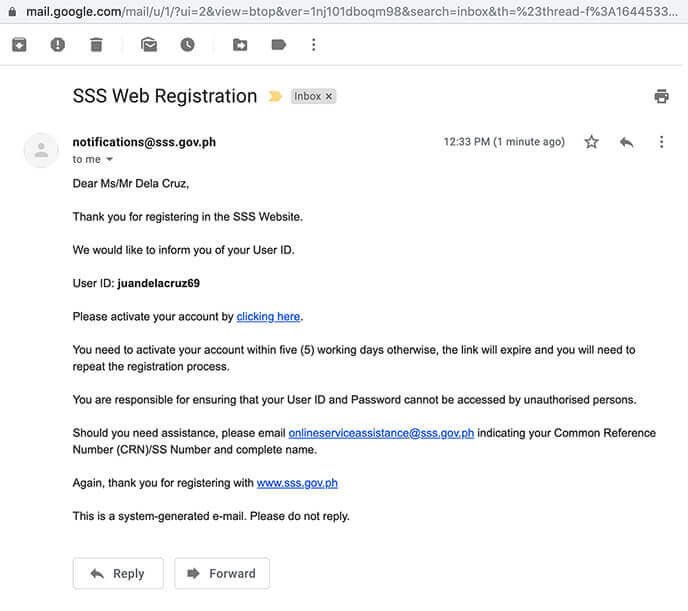 You may now create your unique password. Make sure that it comply with the standard and secure password.
After this, you may now access your SSS Online account by logging in using your credentials.
You now have to freedom to familiarize yourself in SSS Online Inquiry website. You can now easily view your monthly contributions, static information and other membership information.
How to Register an SSS Account Online as an Employer
This tutorial is focused on the online registration of all employers, you may skip this part if you're not an Employer. If you are an SSS Member as an Employed, Self-employed, Voluntary, Non working spouse or an OFW, I highly advise you to read the tutorial above.
Here are the quick few steps in SSS Online Inquiry Account Registration for Employer.
Registration Form for Employers
Before we begin, I need you to identify yourself what kind of Employer are you? Are you the type of Employer who owns a business or just a Household employers? If you got that, I want you to click the proper application form provided in the link down below.
Fill up the application form correctly and accurately. Make sure that all information with an asterisk are filled up because these are required information.
To help you with your application, we'll tackle few items from the application form for clearer view.
Employer ID – this is the SSS Employer Number issued to you by the SSS when you registered as an Employer. You can easily get this from your Employer Registration Plate or SSS Certificate of Registration.
Employer Branch Code – this field is already filled up with three (3) zeroes. Change this if your last three digit of your Employer ID is not "000". If not, then you don't have to do anything about it.
Date of Coverage – the month and year when you hired your very first employee(s). You can refer to your SSS Registration Plate or Form R-1. Use the drop down menu to fill up this field.
Company Email Address – If you are a Household employer, you may use any email address that is not registered as Employed, Self-employed, Voluntary, Non working spouse or an OFW member. If you are a business or corporate employer, you may use your official company email address.
Preferred User ID – must be unique and must have at least 8 to 15 alphanumeric characters. Preferably a combination of alphabets and number. Example: "JuanDelaCruz213" or "TheXYZCompany"
Email Activation
Once you submitted your online registration as an Employer, go to your assigned email address and check for the email sent by the SSS Website.
The email contains an activation link for your My.SSS Account. Click this and it will take you to a page where you need to enter the SSS Number and other contact information of the authorized signatory of the Company. These information are the following:
SSS number of the Authorized Person
Full Name
and email address
If you are a Household Employer, obviously, you are the authorized signatory/person. Your information must be entered in the fields provided.
If you are registering for a single proprietor, then the authorized signatory is also you since you own the business.
If you are a corporation, you may enter the details of your Human Resources Department head or any person who oversee the Company's employees payroll and benefits. You may ask around your office who's that person. It's usually the HR Head.
The page requires you to tick the checkbox that says "I accept the Terms and Conditions". Click the Submit button to finalize your application.
Another email will also be sent for the validation of your application for the account. It will also be shown in the same page where you filled up the personal information of your Authorized person.
The validation process will take at least 24 to 48 hours, sometimes longer so be patient. 🙂
Your SSS servicing branch will do the verification and validation of your application including the information you have entered especially your authorized person / signatory.
Right after your application is approved by SSS, a final email will be sent notifying you that your application is approved. The email also contains the company user id (the one you assigned) and the system generated password.
For the first time, log in to your My.SSS Employer's account using your User ID and system generated password. The website will prompt you that you need to change your password. Change it immediately for security purposes.
Create a strong password. Ensure that you select a complex passwords which is composed of numeric, alphabetic (uppercase and lowercase) characters in addition to special symbols and similar characters.
Important Tips!
Since I've already written a whole bunch of tutorials related to the My.SSS Online Account, Its best that I give you tips to experience hassle free My.SSS experience.
My.SSS during off-peak hours
Most of the time, I hear people complaining that they are unable to access SSS website. This is due to the volume of traffic simultaneously accessing the website. The server can't handle huge request so to avoid this, I recommend accessing the website during off-peak hours.
When I say "off-peak hours", it means 7PM onwards. The later the better. During day time, most of the people accessing their accounts through mobile devices and desktops which makes the server overloads. Hence, the slow response of the website.
But if you access it during peak hours, half of the usual visitors of the website is gone! No more traffic. It's like driving in EDSA at around 3AM in the morning! 🙂
SSS Online Inquiry Mobile App
For the convenience of all SSS Members, the SSS released a mobile app. You can download this app in App Store for Apple Users or Google Play for Android Users.

The SSS mobile app doesn't have much extra features except the SSS Salary Loan Application and Maternity related notification.
The SSS Mobile app can be used by all members who already have an SSS Online Inquiry account. If you don't have one yet, then I recommend that you read up the tutorial above.
Same user name and password (log in credentials from My.SSS website) will be used in mobile app so you don't need to register again.
Password Expiration Feature
The My.SSS website asks its users to change their password every 90 days. If you fail to change your password after 90 days, you can still log in to your account but the website will force you to change it to a new one.
SSS Online Account Registration in any SSS Branch
SSS branches are equipped with a personal computer for the purpose of public use where members can access their online accounts for free.
It's also an avenue where you can register your own account with them. It's also come in handy because you can easily ask the assistance of the SSS Officer designated to help the users while using the SSS Portal.
Generate SSS PRN
People are asking why they can't generate their PRN on the new SSS Portal. That is because this function is not yet implemented in the new one.
If you want to generate your PRN number, you must log in to the old website and do this task. you can refer to our article on how to get your SSS PRN Number here.
Forgot User ID or Password?
Unfortunately, many people forgot their Password or even their User IDs. Worry not! The website is equipped with the forgot UserID / Password feature.
This features allows the member to retrieve their user id or password by just using their SSS Number or CRN number. The website will then send an email to the registered email address with a link to the SSS website where it will show your User ID and a nomination of a new password.
This feature is very easy to use as long as you have an access to your email address.
So there you have it, if you have any question related to your SSS Online Inquiry account, feel free to write it down in the comments section!
Have a great day!