Note: This article about 6 Easy Steps To Check Your SSS Loan Balance has been update on January 5, 2023
If you availed an SSS Salary Loan and been wondering for quite some time now "How much is my existing SSS Salary Loan Balance?", you must be thinking how can you do this conveniently?
Visiting the nearest SSS Branch and asking a very simple question about your SSS Loan Balance takes too much time and hassle.
Listen up, Kid.
Because of the development of the new SSS Online Inquiry website, members of Social Security System can easily check their SSS Loan balance using their computers or even with their smartphones, anytime and anywhere. 24 by 7! Anyone can do this by following these simple steps:
SSS Online Inquiry Website
1. Go to SSS.Gov.ph which is the Official Website of Social Security System Philippines and log in to your SSS Online Inquiry account.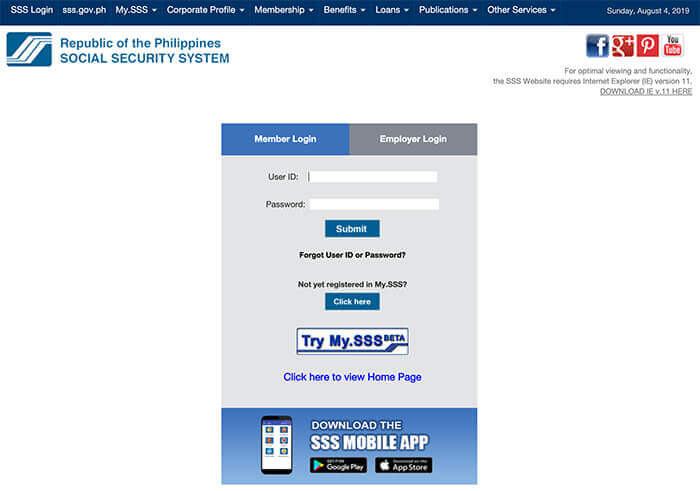 In this tutorial, I am assuming that you already have your own My.SSS Online account. If not, you can read through my tutorial on How to Register your Own SSS Online Inquiry account.
If in any case you forgot your username or password, you can use the "Forgot Username or Password" feature of the SSS website or you can read my other tutorial on how to retrieve your SSS Online Username and Password.
SSS Online Inquiry
2. After you successfully logged in your account, from the Main Menu, Click or Hover over "E-Services" and click "Inquiry".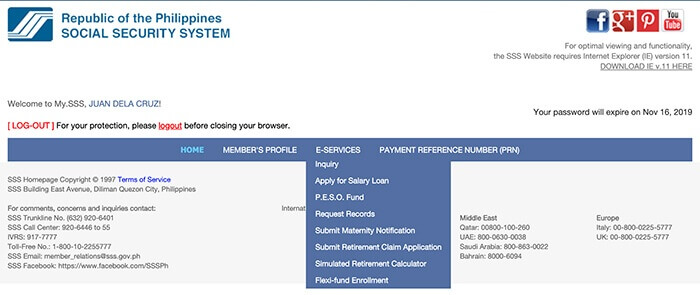 SSS Salary Loan Status / Info
3. The next page will load another full set of menu. Hover or click "Loans" then "Loan Status / Loan Info".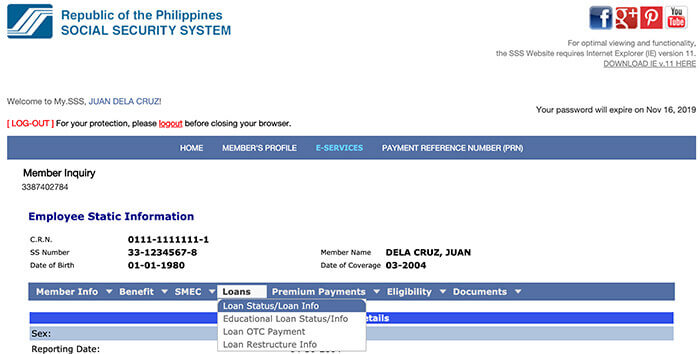 List of Availed SSS Salary Loans
4. This will display your Loan Application Details as well as the the List of Availed SSS Loans. You can see it in the bottom portion of the screen.

In my case, I already have availed the SSS Salary Loan thrice since I am eligible to apply for one which is presented in the image above. The Salary Loans are arranged chronologically.
Click the first link that says "Salary Loan" from the list to view the current balance of your salary loan.
Statement of Account & Loan Payments
5. By clicking the latest SSS Salary Loan, this will display the Member Loan Information. You don't need this information and refrain from reading it. Look for the link text "Statement of Account & Loan Payments" and click it.

SSS Salary Loan Balance
6. The link text above will display your "Statement of Account & Loan Payment Details".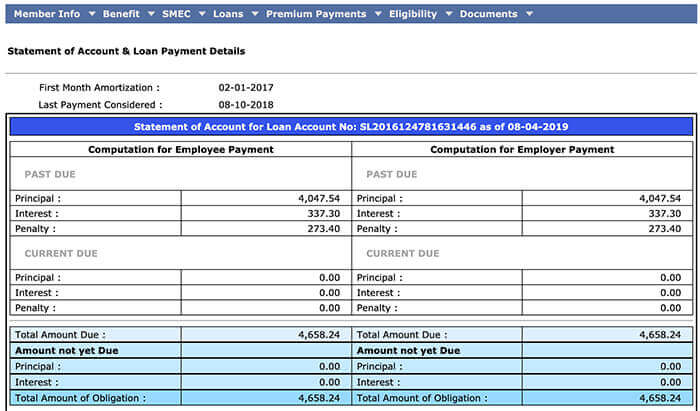 The first part of the page shows the Computation for Employee's Payment and the Computation for Employer's Payment.
By looking at this, you can easily figure out how much is your SSS Salary Loan balance. In my case shown in the screenshot above, you can see that I have an amount due of P4,658.24.
The Amount of Obligation is your SSS Salary Loan Balance. That means, that's the remaining balance of your SSS Salary Loan.
At the bottom, you can see the "Credited Payments", that means, it is the record of all your payments made. If your status in SSS is Employed, these payments are automatically deducted to your Salary. The burden of paying the Social Security System is done by your respective Company thru their monthly remittance.

If you have noticed that a payment that you've made is missing in the list, first thing to do is to contact your Human Resources Department or your Company's Department in charge of SSS Benefits or Payroll and start asking questions.
It is important to keep track your Payments as few Employers failed to comply and remit your payment to SSS. Unable to remit your payment will lead to past due loan.
Have something to add to this tutorial? Share it in the comments.