How To Apply SSS ID — Are you planning to apply for an SSS ID? Looking to the tutorial on How to apply SSS ID?
The SSS ID is a valuable identification card offered by the Social Security System in the Philippines.
To assist you in the process efficiently, we have written a user friendly how to guide that offers step by step instructions on how to apply for an SSS ID. We'll address all your questions along the way to ensure a smooth and hassle free experience.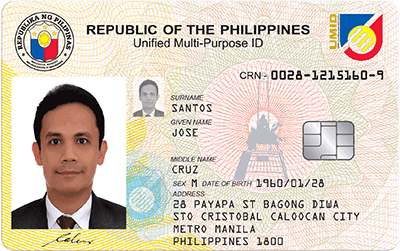 From eligibility requirements to the application methods available, we've got you covered. By the end of this article, you'll have all the information you need to breeze through your SSS ID application with confidence.
To kick things off, let's address a series of commonly asked questions before diving into the comprehensive guide.
Can I apply for SSS ID Online?
One of the most frequent and commonly asked questions is whether you can apply for an SSS ID online. Unfortunately, as of this writing, the SSS ID application process still requires a physical presence. However, there are certain aspects of the application that can be done in www.sss.gov.ph online, such as setting an appointment through the My.SSS portal.
What are the requirements to get an SSS ID?
To apply for an SSS ID, you need to prepare the necessary requirements. The primary requirement is a valid primary ID or, if unavailable, two valid secondary IDs.
The primary ID options includes the following:
Unified Multi-Purpose ID (UMID) Card or old Social Security Card (for replacement or upgrading)
Philippine Passport
Driver's License
Postal Identity Card
Voter's ID Card
Seafarer's Identification and Record Book (Seaman's Book)
Alien Certificate of Registration
Firearm Registration
License to Own and Possess Firearms
Permit to Carry Firearms Outside of Residence
If you don't possess any of the primary IDs mentioned earlier, don't worry! You have the option to present two secondary valid IDs, both of which must contain your signature. Additionally, ensure that one of the secondary IDs bears a photograph of yourself. By fulfilling these requirements, you can proceed with your SSS ID application smoothly.
Secondary ID options for the SSS ID application are:
TIN ID
Pag-IBIG Member's Data Form
PhilHealth Member's Data Record (MDR)
Police Clearance
Birth Certificate
School or Company ID
Transcript of School Records
Senior Citizen Card
Marriage Contract
OWWA Card
Barangay/Municipal/City ID
PRC License
Fisherman's Card
Seafarer's Registration Certificate
Certificate of Naturalization
Temporary Driver's License
OMA Certificate or Certificate from the Office of Muslim Affairs
Certificate from the Office of Northern/Southern Cultural Communities (ONCC/OSCC)
Important Note! Make sure to bring the original copies of your chosen IDs. Photocopies are not allowed!
How can I get my SSS ID immediately?
While immediate issuance of the SSS ID is not currently available, you can expedite the process by ensuring you have all the necessary documents prepared and by completing the application accurately. Following the correct procedure, attending your scheduled appointment promptly, and providing all required information can help streamline the process and minimize any delays.
How much does the SSS ID application cost?
Good news! The application for an SSS ID is free of charge. You won't have to worry about any fees when applying for this essential identification card.
Can I walk in for an SSS ID application?
Yes, you can walk in for an SSS ID application, but it is recommended to set an appointment through the My.SSS portal. By scheduling an appointment, you can save time and ensure that you are attended to promptly at the SSS branch. However, some SSS branches do accommodate walk-in applicants, so it's advisable to check the availability and guidelines of your local branch.
Can I get an SSS ID without having a job?
Absolutely, a member of SSS don't need to have a job to apply for an SSS ID. The SSS ID is available to all members, whether employed, self-employed, voluntary members, or even unemployed individuals.
How can I get an SSS ID if I am unemployed?
If a member is currently unemployed, he or she can still apply for an SSS ID. The process and requirements is still the same, regardless of employment status. Simply ensure that you have the necessary valid IDs and other supporting documents to complete your application.
Is an SSS ID considered a valid ID?
Yes, our SSS ID is considered a valid identification card in the Philippines. It is widely accepted by Government Offices, Banks and Financial Institutions, and other establishments as a valid proof of identity. The SSS ID provides important information about the cardholder and serves as a reliable form of identification.
How many years is an SSS ID valid for?
The SSS ID does not have an expiration date. Once issued, it remains valid indefinitely. However, it is essential to keep your information updated with the SSS to ensure the accuracy of your records and avoid any issues in the future.
Who is Eligible for an SSS ID Card?
Any individual who is a member of the Social Security System (SSS) in the Philippines is eligible to apply for an SSS ID card. Whether you are employed, self-employed, voluntary member, or even unemployed, you can obtain an SSS ID.
To be eligible for a UMID Card, individuals must meet the following criteria:
SSS Membership – Being an active member of the Social Security System (SSS) with

at least one posted contribution

is a key requirement for obtaining a new or replacement UMID card.
Lost, Stolen, or Damaged ID – If your SSS ID or UMID card has been lost, stolen, or damaged, you are eligible to apply for a replacement UMID card.
Updating Personal Information – If you need to update your UMID card due to a change of name or any corrections in your personal data, you are eligible for a new UMID card.
Upgrading to UMID-ATM Card – If you currently hold a regular UMID card and wish to upgrade it to the UMID-ATM card, you are eligible to apply for the card replacement.
Replacing an Old SSS ID – If you possess an old SSS ID and would like to replace it with a UMID card, you are eligible for the UMID card application.
By meeting any of these conditions, you qualify for a UMID Card and can proceed with the application process accordingly.
What are the Ways to Apply for an SSS ID Card?
There are two ways to apply for an SSS ID card:
A. Online Appointment System: To apply for an SSS ID card through the online appointment system (SSS Online Inquiry), you need to access the My.SSS portal. Log in to your account, navigate to the "Member Info" section, and click on the "Appointment System" option. Fill in the required information and choose the desired appointment time. Once you have completed the process, submit your appointment schedule. This option is ideal if your preferred SSS branch does not accommodate walk-ins.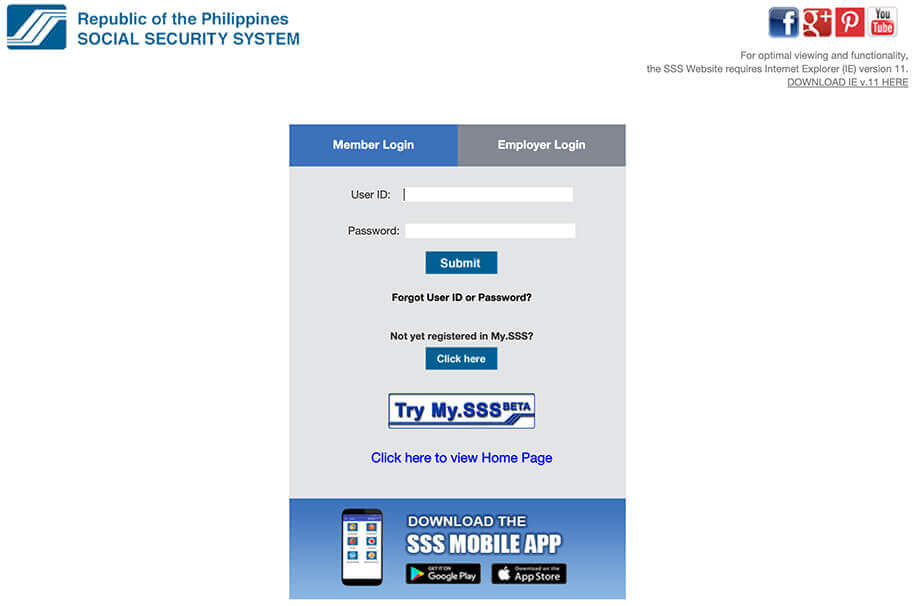 B. Branch Walk-In: If you prefer to apply for an SSS ID card through a branch walk-in, you can visit your nearest SSS branch with an SSS ID enrollment facility. It is recommended to follow the mandatory branch number coding system implemented by the SSS. The coding system assigns specific appointment days based on the 10th digit of the SSS Employer (ER) ID number. For example, Mondays are designated for digits 1 and 2, Tuesdays for digits 3 and 4, Wednesday for digits5 and 6 and so on. Be sure to check the coding system guidelines for your respective branch.
How To Apply SSS ID Card?
To apply for an SSS ID card, follow these steps:
1. Prepare your valid primary or secondary ID as your requirement – Gather your original primary ID or two valid secondary IDs if a primary ID is not available. Ensure that the IDs are not expired and that you have both the original copies and photocopies of the chosen IDs.
2. Fill out the SSS ID card application form – Download the SSS ID card application form from the SSS website or obtain it from the nearest SSS branch. Fill out the form completely and accurately using a black or blue ballpen. Write in capital letters and use "N/A" for non-applicable information.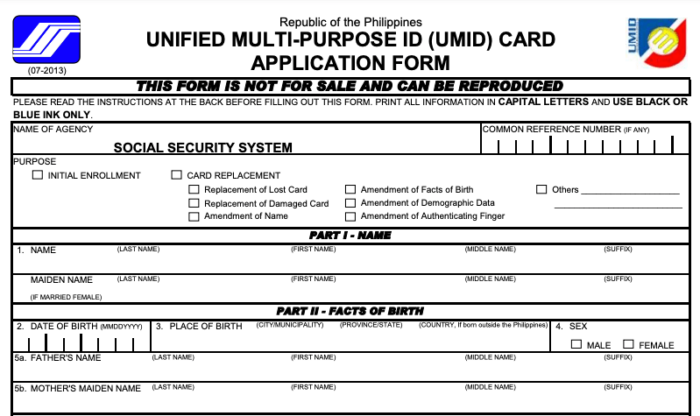 Remember that only up to two erasures are allowed, and your signature must accompany each erasure or alteration.
3. Set an online appointment with SSS (if applicable) – If you choose the online appointment system thru SSS Online Inquiry, set a convenient appointment through the My.SSS portal. Provide the necessary information and select your desired time slot. Submit your appointment schedule to confirm the booking.
4. Visit the SSS branch on the scheduled appointment – Arrive at the designated SSS branch at least 15 minutes before your scheduled appointment time. Bring the completed SSS ID card application form, your valid primary or secondary ID. Submit your requirements to the personnel at the SSS ID enrollment facility.
5. Have your photo and biometrics taken – Once your requirements are verified, proceed to the enrollment station to have your photo and biometric data captured. This involves capturing your facial image, signature, and fingerprints. Follow any dress code guidelines provided by the SSS branch, such as wearing collared shirts or blouses and removing accessories or eyeglasses during the photo capture process.
6. Check the status of your SSS ID card application – After completing the enrollment process, you will receive information about the availability and delivery of your SSS ID card. You can check the status of your application through the SSS website or by contacting the SSS hotline or visiting the SSS branch where you applied. It usually takes a few weeks for the SSS ID card to be processed and delivered.
7. Receive your SSS ID card – Once your SSS ID card is ready, it will be delivered to the address you provided during the application process. Make sure to have someone available to receive the card on your behalf if you are unable to personally receive it. The SSS ID card is typically delivered by mail or courier service.
8. Activate your SSS ID card – Upon receiving your SSS ID card, you need to activate it. Activation can be done at any SSS branch or through the SSS website. Follow the provided instructions to activate your card, which may include creating an online account and linking your SSS ID card to it.
Remember to keep your SSS ID card in a safe place and treat it as a valuable identification document. It serves as proof of your SSS membership and provides access to various benefits, SSS loan or SSS Salary Loan, and other services such as www.sss.gov.ph loan balance inquiry offered by the SSS.
Conclusion on How To Apply SSS ID
Obtaining an SSS ID card is a straightforward process that involves preparing the necessary requirements, completing the application form, attending a scheduled appointment, having your photo and biometrics taken, and waiting for the card to be processed and delivered. Whether you choose to apply online or through a branch walk-in, following the correct procedures and ensuring accuracy in your application will help streamline the process. Once you receive your SSS ID card, activate it promptly to enjoy the benefits and services provided by the Social Security System.